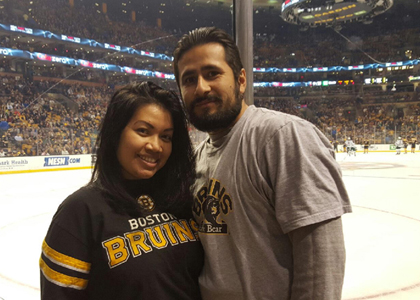 Boston Bruins vs. Minnesota Wild Score was Boston 4-2.
LTI offers the Reservation Manager, Nancy Chea, free tickets to the Bruins Game! After a long day at work, why not enjoy front row seats and drinks at the game. We got a chance to catch up with Nancy the day after the game and here's what she had to say:
"Been to a few Bruins games but this time was very special because it was a long overdue date night for my fiance and I. Being able to enjoy a night out after work without the kids was great. It was a very exciting game, there was a fight within the first 2 minutes and due to Loui Ericksson scoring 3 goals, we were able to do the 'hat trick!'
Front row was super amazing, especially when the puck hits the glass, I found myself flinching every time.
Thank you to the owner, Michael Southwick, for his generous gift. I am very grateful to have received them! Not only did he give his tickets, he also provided the parking pass since we decided to drive into the city."
A special thank you to Nancy for giving us an in depth review of her fantastic night out on LTI, where we believe work-life balance is essential and hope to continue coming up with creative ways to appreciate our employees.